Click here to close this staff profile.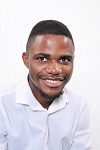 Mr Zwonaka Mapholi
Bioresources, photocatalysis & coal gasification
Short Bio
Zwonaka Mapholi was appointed as Junior Lecturer at the Department of Process Engineering in January 2020. He is busy completing his doctoral degree in Chemical Engineering with a research focus on recovery of HVP from plant biomass and synthesis of biofuels. Previously, he completed his BSc Eng (Chemical) degree at the University of the Witwatersrand's School of Chemical and Metallurgical Engineering.
Research Interests
Bioresource Engineering (recovery of HVP from plant biomass and synthesis of biofuels)
Applications of "power ultrasound"
Photocatalysis
Coal gasification technology
Teaching
Chemical Thermodynamics (CE 317) (Assistant)