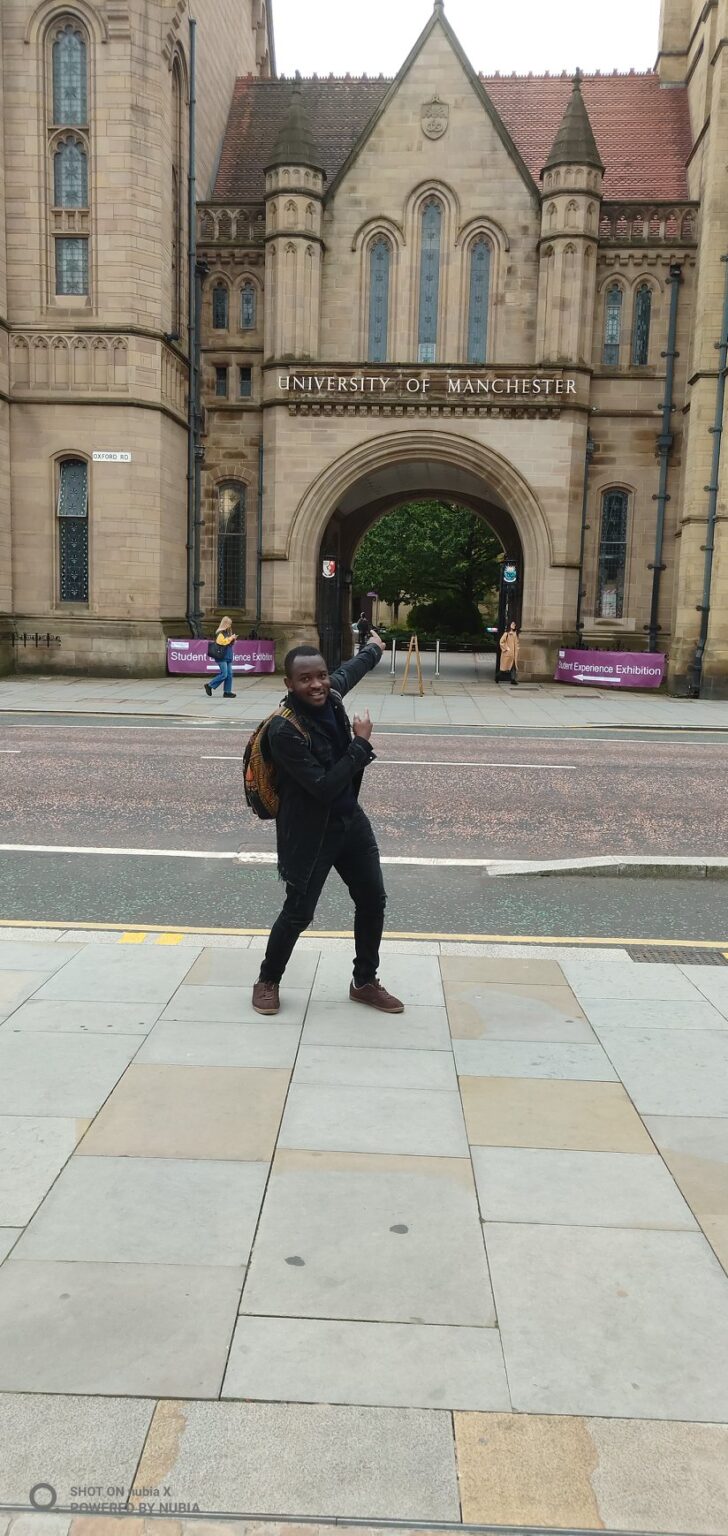 Bovinille Anye Cho, originally from a rural town in the southwest region of the Republic of Cameroon, completed his master's degree with distinction in Chemical Engineering at the Department of Process Engineering, Stellenbosch University, in 2018. He is currently enrolled for a PhD at the University of Manchester. How did he get there? By dreaming big, working hard, and chasing his dreams with relentless pursuit. This is his story.
"How did I get here?" is a question I often have to answer. "This question gets a straightforward answer if you can afford both the travels to United Kingdoms (UK) and tuition fees for postgraduate studies at The University of Manchester (UoM). However, it becomes close to impossible if you are the second born of three boys, raised by a widowed mother with no inheritance (every property left behind when my father passed away were seized by his brothers) and from a rural town in the Southwest Region of the Republic of Cameroon."
Bovi's journey started at an early age. "I began working very hard in school and supporting my mom's business in order to raise funds for my education. I performed well and was the top learner in my class at my school. I graduated in 2015 with a BSc in Chemical Engineering (3.50/4.0 GPA) from the Catholic University Institute of Buea (CUIB). Upon graduation, I extended my final year project into a business idea which in 2016 won the prestigious Tony Elumelu Entrepreneurship Program (TEEP) award in Lagos, Nigeria, and the President Obama Young Africa Leaders Initiative (YALI) in RLC West Africa award in Ghana."
He continues: "My research interest for a master's degree in South Africa and profile matched the characteristics sought after in a Mandela Rhodes Scholar (excellent academics, leadership, entrepreneurship, and reconciliation abilities) and I was awarded this prestigious Scholarship (among the only six Cameroonians to been awarded since its establishment in 2005)." His cohort (class of 2017) comprised of 52 scholars which were selected from a pool of over 8,000 applicants from Africa and the diaspora.
Stellenbosch University (SU) played a pivotal role in his career development as a leading researcher in the field of Process System Engineering and Sustainable Energy Production. Under the supervision of Dr Robbie Pott, he developed a novel thermosiphon photobioreactor for the project on reformation of organic-rich waste water into high purity hydrogen. This project has strong connections with his PhD research at UoM where Dr Pott serves as his external co-supervisor. Bovi completed his MEng degree with distinction in 2018, with a first-authored publication in the Chemical Engineering Journal, titled The development of a thermosiphon photobioreactor and analysis using Computational Fluid Dynamics. In April 2019, he was awarded a Commonwealth PhD Scholarship, tenable in the UK, which allowed him to pursue his dream of enrolling for a PhD at UoM.
How does Manchester compare? "My experience as a Research Assistant at the Bioprocess Engineering lab (under Dr. Pott) at SU for six months upon graduation prepared me for my research at UoM. The unanswered questions of my MEng work became PhD research objectives, which needed cutting-edge machine learning strategies and physical modelling methodologies to resolve critical challenges arising from the design, optimisation, and scale-up of next-generation Photobioreactor systems."
The international authorities in the field of process modelling and integration, Dr Dongda Zhang and Prof Robin Smith, which he needed to guarantee success of his study are hosted at the Centre for Process Integration at UoM. Their close collaborations with academics from both the UK (Dr. Antonio del Rio-Chanona from Imperial College London) and other institutes abroad (Professor Keju Jing from Xiamen University, China) meant numerous opportunities for him to establish new networks with international teams, and raise his research profile so as to eventually achieve his long-term career goals.
Featured photos: Bovi at the University of Manchester, UK.