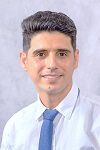 Dr Fariborz Shaahmadi
Thermodynamic Modelling, Green Chemistry & CO2 Capture


Short Bio
Fariborz Shaahmadi is a Postdoctoral Research Fellow in the Department of Process Engineering with current research focussing on the improvement of fundamental thermodynamic models like the SAFT family of equation of state. The group contribution SAFT-γ Mie EoS, as one of the recent important areas of research in chemical physics, is based on the statistical associating fluid theory (SAFT) for fused heteronuclear molecules. He is also conducting a systematic measurement of thermophysical mixture properties currently unavailable in the literature such as monomer fractions in solvating systems using FTIR spectroscopy in Process Engineering Department of Stellenbosch university. These results facilitate improved models that have been hindered in the past by considering only phase equilibrium measurements.
Education
PhD (Chemical Engineering), Petroleum University of Technology, 2019
MSc (Chemical Engineering), Iran University of Science and Technology, 2013
BEng (Chemical Engineering), Razi University, 2010
Professional Experience
Postdoctoral Researcher
Department of Process Engineering, Stellenbosch University
2020 – present
Research Assistant
National Iranian South Oil Company, Ahvaz (Iran)
2017 – 2019
Lecturer
Islamic Azad University of Dezful & Shahid Chamran Technical University (Iran)
2015-2018
R&D Engineer
Sepco Company Consultants, Tehran (Iran)
2012 – 2013
Awards
The Prize from Iran's National Elites Foundation (INEF), 2018
Student Scholarship of Oil Ministry of Iran in Petroleum University of Technology, 2013
Research Interests
Thermodynamics Modelling
SAFT Equation of State
Electrolyte solutions
Phase Equilibria
Transfer Phenomena
Separation Processes
Process Simulation
Ionic Liquids
Intelligent Modeling
Selected Publications
Visit my Google Scholar Profile for a complete list of my publications.