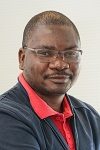 Prof Sampson Mamphweli
Bioenergy & waste valorisation


Short Bio
Professor Ntshengedzeni Sampson Mamphweli completed his PhD in Physics, focusing on biomass gasification, at the University of Fort Hare in 2010. He also holds a Master's degree in Environmental Sciences from the University of Venda.
He previously worked for the South African National Parks, the University of Cape Town, and Institute of Technology at the University of Fort Hare, before joining Stellenbosch University in 2017. He is currently a Professor in the Department of Process Engineering, and he is seconded to serve as the Director of the Centre for Renewable and Sustainable Energy Studies (CRSES).
Research Interests
• Bioenergy (gasification, pyrolysis and biogas digesters)
• Waste valorisation
Selected Publications
A list of his published works can be found on his Google Scholar profile.
Teaching
Although Prof Mamphweli does not currently have a teaching load due to his work as Director of CRSES, he does give lectures on Bioenergy.