The home of Chemical Engineering at Stellenbosch University.
Welcome to the Department of Process Engineering, situated within the Faculty of Engineering at Stellenbosch University. We take pride in doing cutting-edge research whilst delivering well rounded and highly skilled professional chemical engineers. Our team includes 20 full-time academic staff, 20 postdoctoral researchers, and 28 technical and support staff. Here you will find information about our research focus and academic programmes, as well as contact details of our staff.
Within the Department, our research foci can be grouped in to six main research areas:

The Department offers a four-year, ECSA accredited, undergraduate Bachelor of Engineering (BEng) degree in Chemical Engineering, which leads to registration as a professional engineer. We take pride in developing highly skilled, well-rounded professional engineers.
---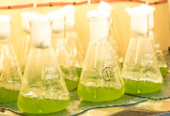 Chemical Engineering
Chemical engineering relates to the design, management and optimisation of processes used to produce valuable products from raw materials. These products are crucially important to almost every sphere of the modern society, be it in the form of basic consumables, commodities, or environmental services. The chemical engineer therefore plays a pivotal role in society and has the opportunity to improve the everyday lives of people!
The Department offers two postgraduate qualifications:
---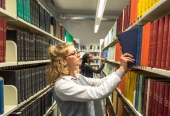 Masters in Engineering (MEng) (Research)
Candidates with a BEng degree, Hons BSc degree, MTech degree or a PGDip are eligible to apply for a MEng (Research) in Chemical Engineering.
---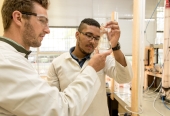 PhD
Candidates with an applicable Master's degree are eligible to apply for a PhD in either Chemical Engineering.
---
So, you want to study chemical engineering and Stellenbosch University seems like the right choice for you. Watch our video to see what our department can offer you from an academic and career point of view.
---
What in the world do chemical engineers do? This film illustrates the substance and breadth of chemical engineering's contributions. May you also be inspired to change the world!