Click here to close this staff profile.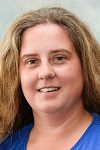 Dr Kate Haigh
Postdoctoral Fellow
I received my bachelors in Chemical Engineering from UCT and following this I moved to the UK.  While in the UK I worked at a drinking water company carrying out research to resolve water quality challenges the company was having. 
I then went on to complete a masters degree at Warwick University in Process Technology and Business management which provided insights into how engineering and business challenges are interlinked. 
I then took the opportunity to work at BAE Systems in a variety of roles which allowed me to develop skills and knowledge related to process safety and project management. 
After 2 years at BAE Systems I decided that my main interest was research within the field of Chemical Engineering and thus I earned a PhD at Loughborough University looking at options for more effective production of biodiesel from used cooking oil. 
My current focus is to investigate the potential for the production of fuels and chemicals from renewable biomass, thus reducing our dependence on fossil resources.  A key part of this work is to generate Aspen Plus® simulations of biorefineries.  Biorefineries provide a means to use as much of the plant as possible to produce a range of products which it is hoped will have increased financial benefit compared to a single product.  These simulations provide a means to assess proposed biorefinery options and technologies in terms of the economic viability, environmental impacts and social benefits.  These three parameters can also be combined to produce a sustainability assessment.
This builds on earlier research work.  Firstly the project for my MSc which involved investigating energy use and energy use patterns at Warwick University to assess options to use more renewable energy.  Secondly my PhD research was focused on investigating improved options for the production biodiesel from waste cooking oil by using heterogonous catalysts.
Gottumukkala, L.D., Haigh, K.F., van, Collard FX., Rensburg, E. &Görgens JF (2016). Opportunities and prospects of biorefinery-based waste valorisation of pulp and paper sludge. Bioresource Technology. 215:37-49.Doi:10.1016/j.biortech.2016.04.015
Daful, A.G., Haigh, K.F., Vaskan, P. &Görgens J.F. (2016).Environmental impact assessment oflignocellulosic lactic acid production: Integratedwith existing sugar mills.Food and Bioproducts Processing. 99:58-70.  Doi:10.1016/j.fbp.2016.04.005
Petersen, A.M., Haigh, K.F. &Görgens JF (2014). Techno-economics of integrating bioethanol production from spend sulphite liquor for reduction of greenhouse gas emissions from sulphite pulping mills.Biotechnology for Biofuels. 7:169.  doi:10.1186/s13068-014-0169-8
Haigh K.F., Vladisavljević G.T., Reynolds J.C., Nagy, Z. &Saha B. Kinetics of the pre-treatment of used cooking oil using Novozyme 435 for biodiesel production (2014).  Chemical Engineering Research and Design. 92:713-710. Doi:/10.1016/j.cherd.2014.01.006
Haigh K.F., Abidin S.Z., Vladisavljević G.T. &Saha B. (2013). Comparison of Novozyme 435 and Purolite D5081 as Heterogeneous catalysts for the Pretreatment of Used Cooking Oil for Biodiesel Production.Fuel. 111:186-193.Doi:/10.1016/j.fuel.2013.04.056
Abidin S.Z., Haigh K.F. &Saha B. (2012). Esterification of free fatty acids in used cooking oil using ion exchange resins as a catalysts: An efficient pre-treatment method for biodiesel feedstocks.  Industrial and Engineering Chemistry Research.  51:14653-14664.Doi:/10.1021/ie3007566