Click here to close this staff profile.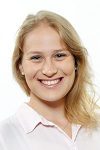 Ms Danielle de Klerk
Junior Lecturer
Danielle de Klerk was appointed as Junior Lecturer at the Department of Process Engineering in August 2019. She is busy completing her postgraduate studies with a research focus on the thermodynamics and phase equilibria of quaternary systems. She completed her BEng in Chemical Engineering (Cum Laude) at Stellenbosch University.
Low pressure phase equilibria:
Vapour-Liquid Equilibria
Liquid-Liquid Equilibria
Vapour-Liquid-Liquid Equilibria
Thermodynamic Modelling
Engineering Chemistry 123
Chemical Engineering D356 (Experimental design and report writing)